Biography
Jenn Edge is a proven innovator and technical leader with over a dozen years of experience in the software industry. She currently manages web and mobile development teams in as Assistant Director of Development at Info Tech in Gainesville, Florida. A perpetual learner, she enjoys designing efficient solutions and exploring interconnections of technology and psychology.

Jenn has been interested in programming since a teacher first introduced her to LOGO Writer in elementary school. As a teen, she learned how to build web pages hosted on GeoCities. She attended the University of Florida where she obtained a Bachelor of Science in Computer Engineering, learning about the layers of computational abstractions: from circuits and microprocessors to object-oriented programming and design patterns.

In 2006, she joined Info Tech, Inc. as a programmer on a development team for an enterprise web application. In the last 12 years, she has gained technical expertise and refined her leadership ability, rising through the ranks from Programmer through Lead Developer to Assistant Director. She was instrumental in designing and advocating for innovative solutions that improved efficiency for the web development and implementation teams.

Jenn is involved in community outreach including speaking at conferences, mentoring other women in tech, and speaking with students about careers in software development.
Public Speaking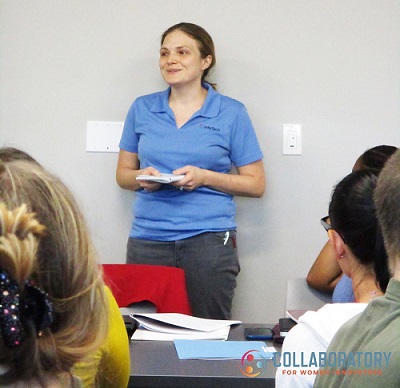 Jenn was a speaker at the Moms Can: Code Fall 2018 Virtual Summit, featured speaker at Gainesville BarCamp 2018, and speed mentor at the 2018 Grace Hopper Celebration.
Shared my Grace Hopper Celebration conference experience with approximately 50 EWITS participants.
Speed Mentoring at the 2018 Grace Hopper Celebration
September 26, 2018
Mentored attendees one-on-one in 6-minute sessions for 2.5 hours based on their interests and questions. Most conversations related to the transition from individual contributor to manager and how to effectively lead a team.
Abstract: Development is failing over and over again at each step until you succeed, and learning how to do something just in time for everything to change. Continuous learning and growth is necessary to learn how to code, keep up with changes in technology, and step into new roles in leadership. Join me to look at the parallels between processes you may be learning or already familiar with in development and approaches to self-improvement proven to be successful in behavioral psychology. Attendees will learn how to improve goal focus with a sustainable pace and automate self-improvement using habits and environmental nudges.
PACE Center for Girls
July 2018
Volunteered at a local girls' nonprofit to teach Microsoft Word for two 50-minute class periods, including giving a career-day presentation on software development.
Intern Training
Summer 2018
Internal company 1-hour workshop to introduce interns to our division, speak about continuous self-improvement, and create goals for their internships.
Abstract: Do you want to make a lasting change, such as learning a new technology or becoming a better leader? Come learn how to develop a better you and nudge your dreams into reality. We'll explore ways to achieve goals and form habits.
Grace Hopper Hackathon for Humanity 2017
October 2017
Presented results for our Cloudera Team to all attendees at the end of a one-day hackathon.
Spoke with local high school coding club (coderGirls) about careers in software development.
Led many workshop and seminar-style training sessions for developer on-boarding covering subjects varying from team culture to project architecture and how-to workshops.